Below is a snapshot of some of the works created by former students. Each assignment provides a platform for visual communication theory and practice. I continually address the formal elements and principles of perception and design through the use of color, line, shape, typography, and other important aesthetics. The following projects range from symbols to large format posters, movable typography on 2-D platforms, and interactive digital publications.
INTERACTIVE DIGITAL PUBLICATION
To create an interactive digital publication using the same material used for your printed brochure. Your brochure may become 3 pages, 4 pages, 5 pages, or more depending how you design it for the iPad. All information from your printed brochure needs to be included. You must mark where each interactive element will occur. Pay special attention to the overall user experience by using simple navigation. Also work to unify the brand aesthetics in your multi-page app.Your publication must be either a call to action, awareness, or for fundraising efforts.
Provide 10 thumbnails and 5 roughs for each page of your publication
P
ages must be unified in style while keeping the appropriate brand aesthetics in mind Needs to establish a good sense of hierarchy
Color restrictions RGB
No restrictions with typeface or style
Must bring clarity to the information
Must keep user experience in mind when creating interactivity and forming navigation
Must educate the public
Final Project


Final Size Dimensions = 1024px x 768px
Must send your brochure to me via SHARING and upload it to Canvas in a Interactive PDF format
To design a large–format poster for a local nonprofit. Your layout must be comprised of type and imagery as well as color that will unify the piece. You will be targeting a particular audience. Your poster design can be a call to action, fundraising, or awareness.
Provide 10 thumbnails (2" x 3") and 5 roughs (4" x 5")
Establish a good sense of hierarchy
Must include an overall visual pattern
Keep in mind that it needs to be professional

No restrictions with type
Keep in mind individuals reading this from afar
Must bring clarity to the information
Take careful consideration of the typographic choices
May be printed on matte or glossy
Must be printed using the large format printer



Final Project 


Final Size Dimensions = 30"w x 40"h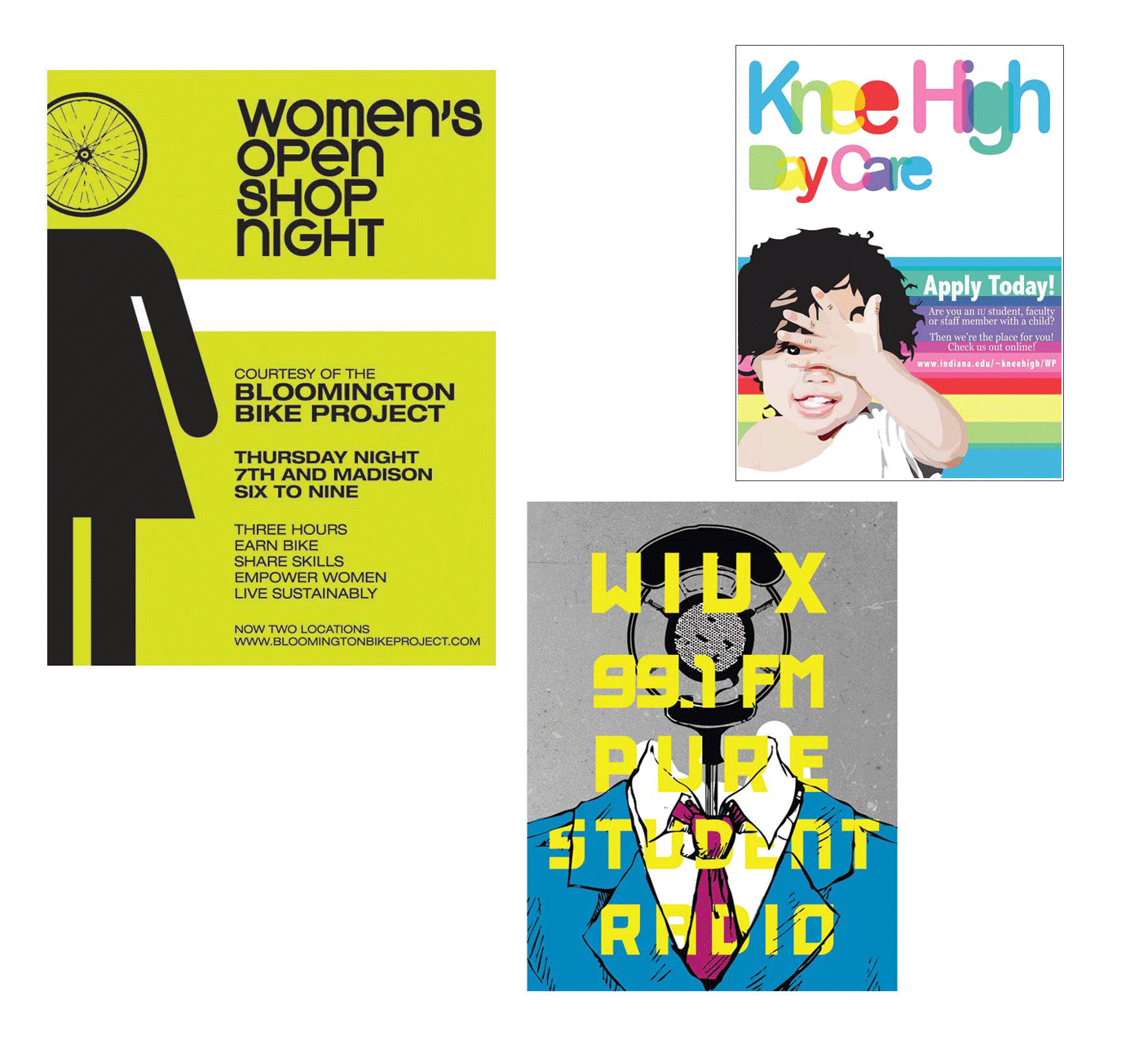 Objective


To create a moveable type visual within a flat scene. The following works were created by students within a postcard setting that captured a sensation of continual movement using type on a 2–D platform. 
Exercise


Provide 10 thumbnails and 5 roughs in your notebook



Guidelines


Color restrictions are black plus 1 color
Must establish a nice figure/ground relationship

May combine two typefaces with any type style you see appropriate

May not distort the typeface
Final Project 


Print size dimensions = 4"w x 6"h or 5"w x 7"h
Final product placed on black matte board 
*Keep in mind you will have two works per board (back and front)
MUSEUM FLOOR SYMBOL
Objective
To sketch a symbol for a floor of a museum. Students were provided with a number and a corresponding theme to the floor. They were asked to combine the theme and the number to become one symbol that will speak to an audience in a museum setting. They were told to keep in mind they may be asked to do a series that will need to consist of a unified message with the same type and style aesthetics.



Exercise
Provide 10 thumbnails (3" x 3") and 5 roughs (5" x 5") in your notebook
Print in black and white only
Must establish a nice figure/ground relationship
Use century gothic bold at 500 pt.
You may not distort the type
Combine number and object to create a wayfinding symbol
Use pencil or marker for sketches and roughs
Final Project


Print size dimensions = 7"w x 7"h
Final size dimensions on black mounting board = 10"w x 10"h